Seeing Through the Clouds: How to Clear a Title
All agencies must obtain 'clear title' if they are acquiring property rights. Though this process can be long and potentially convoluted, at BRI, we have seen it all and know just what to do.
First, it is necessary to ensure that all parties who are mentioned as vested owners (on either the title report, litigation guarantee, Pro-forma, and/or vesting deed) are in fact the property owners and have the authority to sign the documents. If an individual on the vesting is deceased and they don't have an estate, will, or trust, they must go through the probate process so that a judge can grant ownership to an heir and/or devisee. This process can take 1-2 years and will delay the closing of escrow. If the vesting is in an entity (Corporation, LLC, Trust, Partnership, etc.), then they must provide their entity documents to show proof of who has the authorization to sign the acquisition documents (we use their entity documents to verify signatures).
The next step is clearing the title exceptions. All title reports, litigation guarantees and Pro-forma will contain title exceptions. Title exceptions are anything that is recorded against the property. The goal is to have as few title exceptions as possible on either a CLTA Policy or ALTA Policy once escrow closes.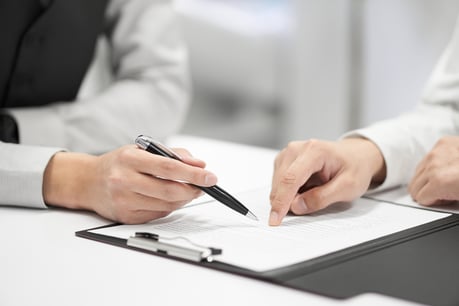 What is the difference between a CLTA Policy and an ALTA Policy?
CLTA Policy is a California Land Title Association Policy and is often referred to as a standard policy. CLTA policy insures the policyholder (the acquiring agency) against encumbrances affecting title which can be discovered by a search of public records. ALTA Policy is an American Land Title Association, which can be a Standard or Extended Policy of Insurance. The ALTA Standard Policy is similar to the CLTA Standard Policy and the ALTA Extended Policy additionally insures against mechanics liens and other defects in title, such as unrecorded easements, liens or encumbrances, lack of access matters, post-policy matters and others, including the vesting chain of title, if any. Typically, the only time an ALTA Policy is requested is for the Bureau of Reclamation (Federal Government) and the cost for an ALTA Policy is significantly higher.
So how exactly do you clear an exception?
In clearing exceptions for right of way projects, the first action item is to remove any title exception that is not in the acquisition area. Standard exceptions that are to be removed are Deed of Trust (either need to obtain a Partial Reconveyance if obtaining a Grant Deed or a Consent to Easement/Subordination to Easement); liens, judgments, entity documents, parties in possession, underwriters review, contact tax collector, etc.
Then, if the client is obtaining a CLTA Policy, water rights claims are automatically removed, as the title company does not insure these. Exceptions for 'water,' whether formerly tidelands, submerged lands, shorelines, etc. are reviewed by an Underwriter and systematically removed. Then, if there are any exceptions remaining, it will be because they directly impact the acquisition area and must stay in the final policy as exceptions to title.
Title exceptions that typically remain are taxes (need to be current) as well as any agencies, cities or counties that are in partnership with the acquiring agency.
Below is a list of the top 10 common problems that BRI encounters with clearing a title:
Errors in Public Records
Unknown Liens
Illegal Deeds
Missing Heirs
Forgeries
Undiscovered Encumbrances
Unknown Easements
Boundary/Survey Disputes

Undiscovered Will
False Impersonation of the Previous Owner
The goal at the end of the day is to close escrow with a clean title and as few as possible title exceptions on the Final Policy of Title.